Fusing discovery, collaboration and commercialization
FPI-1434 is part of a new wave of cancer treatments called targeted alpha therapeutics. It's an experimental radiopharmaceutical that is designed to cause double-stranded DNA breaks in cancer cells, destroying them at once and leaving little chance of a resistance mechanism being formed to allow the cancer to return. In addition, alpha therapies travel short distances within the tissue (e.g., one to two cell lengths), allowing tumours to be targeted with extreme precision.
These promising characteristics alone do not guarantee that a therapy like FPI-1434 will be commercialized for clinical use. Commercialization requires a special type of infrastructure and a culture that combines science, technology, business, medicine, and manufacturing expertise – elements that have come together and are now showing success in Ontario.
Supporting collaborative research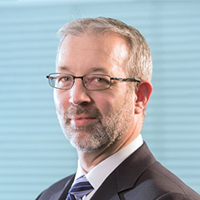 Fusion Pharmaceuticals, the company behind FPI-1434, was spun out from the Centre for Probe Development and Commercialization (CPDC), a centre of excellence in medical isotopes, which OICR helped establish in 2007. CPDC was founded to translate medical isotope research at McMaster University, much of which was led by Dr. John Valliant, a professor at McMaster and now the CEO of Fusion. Valliant points to the critical roles OICR and its commercialization partner FACIT have played in creating the innovative and collaborative ecosystem in Ontario that have helped foster Fusion's recent successes.
"Before OICR was formed, Ontario had strengths in chemistry and imaging physics, but for some unknown reason, we rarely talked to one another," says Valliant. "OICR was a driving force for many collaborations, including those at CPDC, helping to lay the groundwork for a lot of the research that is being commercialized today. None of this would have been possible without the support of OICR and FACIT."
Investing in success
Fusion received a major financial boost earlier this year when it raised $105 million USD in a Series B financing round from investors located in Canada, Ireland, Sweden and the U.S. FACIT also participated in this latest round, as well as in Fusion's earlier Series A round.
This latest funding will allow the 30-employee company to double its staff both this year and next, creating Ontario jobs in pharmaceutical manufacturing, research and development and other areas. The investment will also enable further development of the platform at the heart of Fusion - its Fast-Clear™ Linker technology, which promotes the rapid excretion of medical isotopes that are not specifically bound to cancer cells. This technology allows for the isotopes to be used for longer durations as the risk of damage to non-cancerous cells is greatly mitigated, curbing toxicities and associated side effects.
Fusion continues to be an industry leader in targeted alpha therapeutics - Dr. David O'Neill
"The strong potential for impacting patients with cancer has supported successive rounds of financing, and Fusion continues to be an industry leader in targeted alpha therapeutics," says Dr. David O'Neill, President of FACIT. "We are proud to have invested and supported Fusion's growth since 2015, reflecting our commitment to build sustainable enterprises, create local jobs, and help Ontario's oncology innovations impact patients."
Valliant says that while FACIT's seed investment got Fusion up and running, their support went well beyond this funding. "FACIT provided business expertise and connections that helped drive the business forward and attract further investment. We have made tremendous progress in the last few years as one of few radiotherapy biotechs with a unique platform and full access to robust and innovative manufacturing capabilities."
A bright future
Valliant sees the company as an example of what can be built when the right supports are in place. "I hope that Fusion's success helps spur on a new generation of entrepreneurial students to embrace the resources within the Ontario life sciences ecosystem, and realize the value of keeping their IP in Ontario. The ecosystem being built by OICR, FACIT and other partners in Ontario provides a great launching pad for local company creation," he says. "If we can share the lessons we've learned with new biotech entrepreneurs, I think you will see many companies like Fusion not only being created but scaled up for long term success."
In February 2019, Fusion launched a Phase I, first-in-human trial of FPI-1434 to evaluate the radiotherapeutic in up to 30 patients with advanced solid tumours. The clinical trial, which is currently underway in Canada, will provide key data about this exciting experimental therapy and its potential benefits to patients.